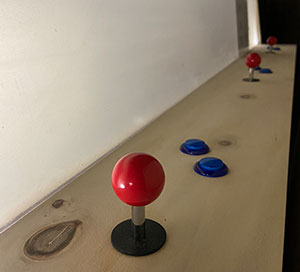 Project history
Les Rencontres Audiovisuelles of Lille, linked to the Video Mapping European Center, supports the development of the video mapping sector in Europe and in particular in the France northern region Hauts-de-France, through research, training and creation and video mapping events & contests.
DAs part of the Video Mapping Festival, I was asked to create 3 connected arcade terminals allowing up to 9 simultaneous players to interact with projected interactive content.
What i've done
Initial editing, Concept & 3D modeling of terminals, project management, carpenter project management, electronics selection and setups, pcb design, embedded software development.
Tools used
SketchUp 3D, PlateformIO, screwdrivers, my soldering iron & a lot of tin.