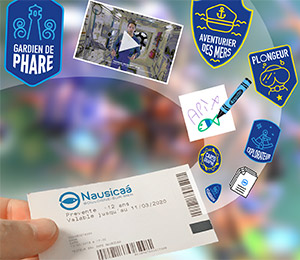 Project history
The connected visit experience was born from the desire to digitize the visitor's journey before, during and after the visit.
The system manages all the gamification mechanics, and therefore allows the different providers to connect to it and push the visitor's actions without having to worry about the points or badges to be won: end of a fun course, answer to a quiz or investigation, recovery of a document of educational value, selfie terminal, ... the link with the visitor is made via the scan of his ticket.
All these interactions are centralized, allowing visitors to find the results of all their interactions in a single account: badges earned, document linked to the validation of a fun course, results of a survey, recovery of content that they do not have. could not finish there, photos of the selfie terminals, ...
What i've done
Once the concept and gamification scenarios defined, I set up the entire technical infrastructure and developed all application layers allowing its integration at all levels of the visit: API, online member area, access tokens & rules, transactional emails, identification terminals, ...
A Javascript library has also been developed so third-party developers can connect their apps easily
Tools used
Linux server, PHP, MySQL, HTML5, CSS, Javascript