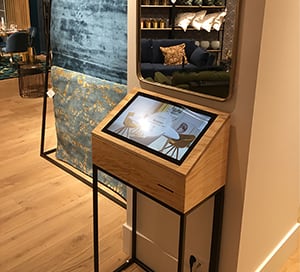 Project history
For the opening of the stores in Paris Carré Senart and Lyon center, La Redoute Interieurs entrusted me with the creation of touchscreen wooden kiosks and the digitization of one of their catalog table.
To support different internal teams, my role extended from the elaboration of 3D plans, coordination of API and application developments, to working closely with the purchasing, network, CIO and store teams within the headquarter.
The woodworking designed the terminals in the same metal and wood as the rest of the store according to my plans, and I was able to integrate IT according to these same plans. I also carried out the integration of data processing in a catalog table, by securing as much as possible the material without deteriorating its visual aspect. Finally, I routed and installed the terminals and table in stores.
In close coordination with the architect and the electrician, we prepared a perfect integration on plan before opening, to install everything on place a few days before opening.
What i've done
Design and 3D plans of the terminals and table, advice and project management, recommendations for IT equipment, carpentry and integration of IT in the terminals and table, delivery and installation in stores.
Tools used
Office Suite, SketchUp 3D and ... my circular saw.